Education lays a foundation for sustained economic growth as it is a key tool for reducing poverty. The Living Proof of Scholarship provides underprivileged students around the world with the resources they need to pursue their teaching goals and become successful global citizens. The Scholarships program consists of financial support, potential business plan funding, and a community service component to expand Proof's Viva work.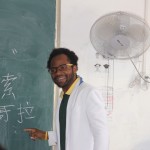 Living Proof awards scholarships and scholarships to students committed to community development through Entrepreneurship, Education and Exchange. Students around the world build strategic networks and partners in important initiatives to gain career-related educational experience, serve as point mentors, and as Living Proof Ambassadors in our target communities.
Fellows advance the mission of Living Proof through monetary or in-kind service contributions to our Entrepreneurship, Education and exchange programs. Scholars must maintain a minimum 3.0 GPA, be high performing and committed to our core values. Students are enrolled less than half-time in school, undergraduate or postgraduate courses at accredited educational institutions.